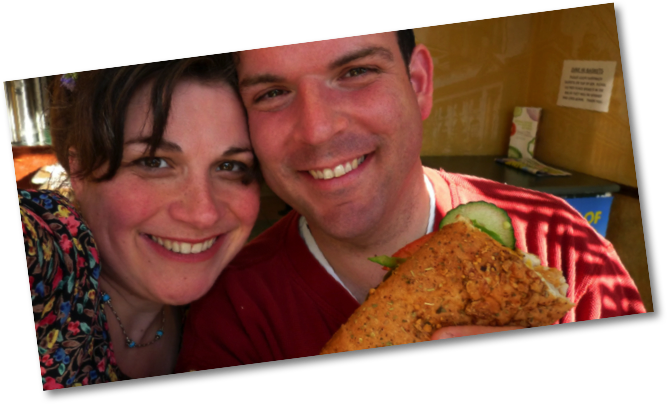 We came to know Jesus as Saviour and He has changed our lives eternally!
The Hamiltons
Although my family has attended church since before I can remember, it never sunk in that the things I did wrong were actually sins. I became very good at justifying in my own mind the wilful (and foolish!) decisions I was making. My parents tried everything they could think of to help me, but in the fall of my fourteenth year, they were forced to make a painful decision. They knew what they needed to do, and on December 2, 1992, a surprised Kelly found herself enrolled in a boarding school for troubled teens, Mountain Park Baptist Boarding Academy.

The Lord was working through it all, and five days later I came to Him in prayer: confessing my sin, begging forgiveness, and trusting in Jesus' death on the cross - payment to God for the wrongs that I had done - as my only way to heaven. I lived at Mountain Park for three and a half years, and I am so thankful for the training I received from the staff there. and the difference their work made in my life.

A year after graduating from high school at Mountain Park, I moved to Indiana and enrolled in Hyles-Anderson College. There I received more intense training in day-to-day Christian living and ministry, and it is also there that God brought Keith and me together!

I am thrilled with the direction that Christ has taken our life, and as I strive to serve Him on deputation, I look forward to the ministry He has prepared for us in Ireland.

I was born and raised in Manchester, New Hampshire. Growing up in a Methodist church I learned about who Jesus was, but never what He could do for me now. In 1995, when I was 19 years old, a lady I worked with began to talk to me about salvation. After three months I finally told her I would like to know how to go to Heaven. I prayed and asked Jesus Christ to be my personal Saviour in May 1995.
In September I attended Keene State College. I felt as though I did not fit in with the other students. The Holy Spirit was working on my heart, and after arriving home the next summer I began attending Gospel Baptist Church in Manchester. I was baptized and never went back to Keene State. After being home a year, I began working in the Junior Church, going soul winning, became an usher, and went on Sunday school visitation. I developed a great hunger to know God better. He was working on my heart and in September of 1997 I attended Hyles-Anderson College. It was there I worked faithfully on a bus route, taught Sunday school for three years, a bus captain for two years and met my beautiful wife Kelly.
On December 5, 1999, I surrendered to the mission field and around February of 2000, I felt God's call to Ireland.